HundrED Summit 2021 and Helsinki Education Week

The HundrED Summit 2021 will again celebrate the most impactful and innovative educational initiatives from around the world. The Summit will be held online between the 3rd and 5th of November and it is expected to have many Lutheran Educators engage in the Summit. Registration is free and Derek and I as Country Lead Ambassadors will be coordinating the delivery of this summit with Live connections by many guests within our time zone.  We will send more information over the coming weeks.
https://hundred.org/en/events/hundred-innovation-summit-2021
Lutheran Education Leaders and Finnish Principals Connect
During the 2021 HundrED Summit and Helsinki Education Week 1-5 November, we will be again hosting a number of events. One of the events as requested by schools is a forum including Lutheran Education School Senior Leaders from Australia and Principals (Head Teachers) of Finnish Schools. It will take place at 7.00 pm AEST on 03 November.
Stay tuned for more events involving Lutheran Education at this year's HundrED Summit and Finland's Helsinki Education Week. 1-5 November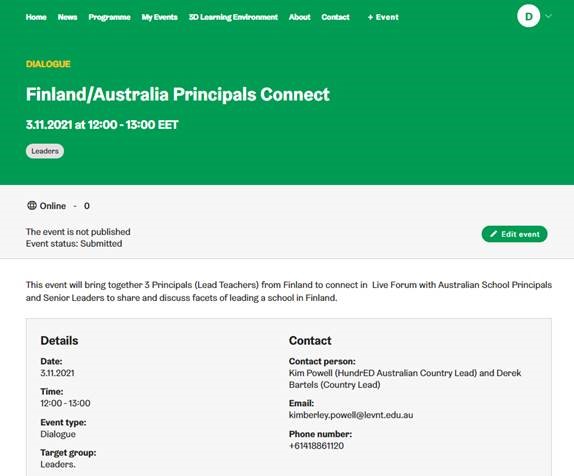 Kim Powell
Learning Leader: Innovation