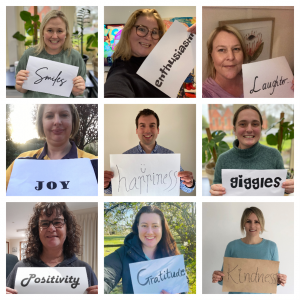 Along with the other LEVNT schools, Tarrington Lutheran School (TLS) has continued to respond to the Coronavirus (COVID-19) pandemic by seeking opportunities for ongoing improvement and innovation and to challenge ourselves to respond in service. We have continued to serve our community by personally delivering learning packs, engage students in a daily Zoom class meeting and innovate our pedagogical approach. Some of our teachers say that remote learning has reinspired them personally as teachers as they have explored and learned different ways to teach!
Throughout the pandemic, we have been blessed by Lutheran Education Queensland (LEQ) schools reaching out to us to check-in and offer us a hand. We were humbled to extend this level of care toward South Australia when it went into a state-wide snap lockdown; praying for and supporting three specific schools, sharing experiences and sharing resources. Sometimes it can be the times of challenge when we realise the bigger system we are a part of, with our other colleagues standing right by our side cheering us on. This year our team has focused on presenting a counter-cultural message. Each morning and evening, families are presented with pandemic news stories in the media that can be detrimental to mental health and wellbeing. As a community we are focused on an alternative message; one of hope, love, forgiveness and a community that presents as much stability as possible to the community.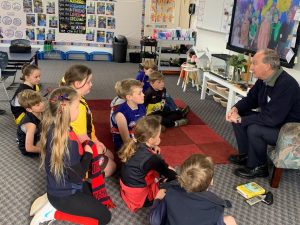 Spiritual focus
Throughout 2021 and lockdowns, we have continued to have our class devotions daily during morning Zoom's and pre-record the weekly Friday Worship (Chapel). It has been lovely to be able to maintain the distinctive flavour that Lutheran schooling offers, regardless of whether we are on or off site!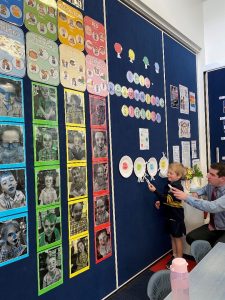 Zones of Regulation
As we look for contemporary ways to educate young people, we have been implementing the Zones of Regulation. The Zones of Regulation provides the students with the ability to name their emotional state (Blue Zone, Green Zone, Yellow Zone and Red Zone) but more so, as they are immersed in this understanding they importantly become more aware of the triggers, and indeed the strategies to be able to regulate their emotions for most effective learning.
This obviously has a significant benefit for the students being engaged in quality teaching and learning activities. The Zones of Regulation is not designed to label or judge students (or adults) but empower them to take responsibility and ownership of their emotions. Obviously, this is graduated and will unfold as our journey continues. The Year 1 classroom has four paper plates on the wall signalling each zone, and the students freely move their personalised peg to reflect their emotional state. This is a fantastic way to quickly observe the spread of emotions in the class. Even Miss Sharp and Mr Phillips have a peg!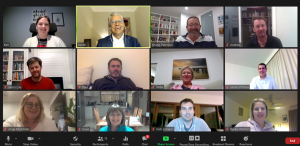 Contemporary learning
In April our School Board and members of the teaching team participated in an introductory session to remote learning with Kim Powell and Derek Bartels. You could feel the excitement and energy in the virtual space as we dreamed about the future of learning at TLS.
These conversations have been continued at Board level and throughout our strategic planning process.
During the Term 3 non-term time, two of our staff engaged in the Project Based Learning (PBL) Kickstart organised by Kim and Derek. This was further opportunity to consolidate professional learning and begin writing units. Contemporary transformation of pedagogy will be a pillar of our strategic plan.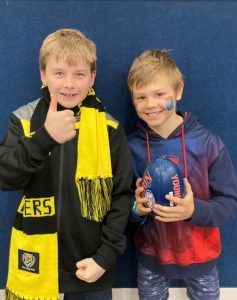 Footy Colours Day
Each year, TLS has a Footy Colours Day and it is usually filled with activities including the big kick and a game between parents and staff versus students. Whilst we couldn't do the day in a COVID-safe way, it didn't stop the students and staff dressing up whether they were at home or onsite!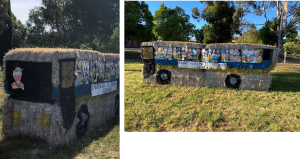 Laternenfest – Haybale Art
Each year, TLS transforms its grounds to host the annual Laternenfest. The Laternenfest tradition brings the Greater Hamilton community together to celebrate and the students in Year 5 and 6 perform a Maypole Dance.
Coinciding with Laternenfest is the annual Haybale Art where Tarrington residents create art constructed from haybales to place out the front of their homes throughout the month of December. This has traditionally been a responsibility of the Year 6 Art students, who have enthusiastically used lessons and break times to put together the design.
The Year 6s are currently involved in a design competition for this year's creation and we look forward to the winning design to being chosen and created!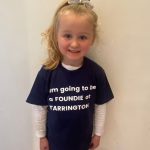 Foundation Transitions
We are blessed to have a full class at Foundation for 2022. The transition program will kick off with a virtual Parent Information Night, and hopefully the restrictions will allow us to welcome our new students for two half days and a full day.
James Phillips
Principal