INSTALLATION SERVICE FOR JACQUI LAYFIELD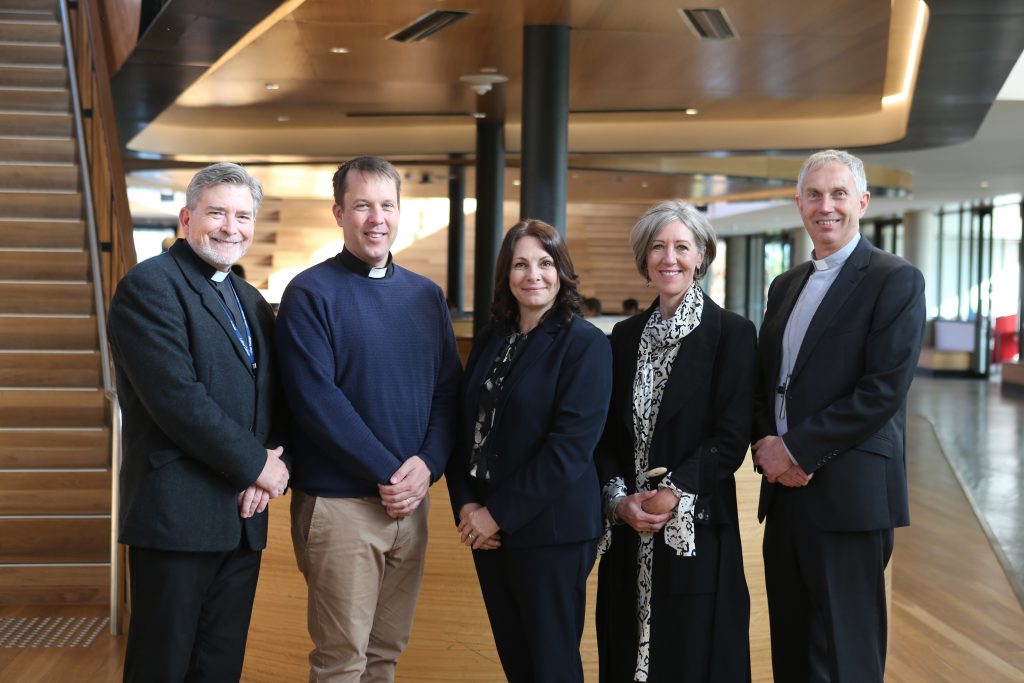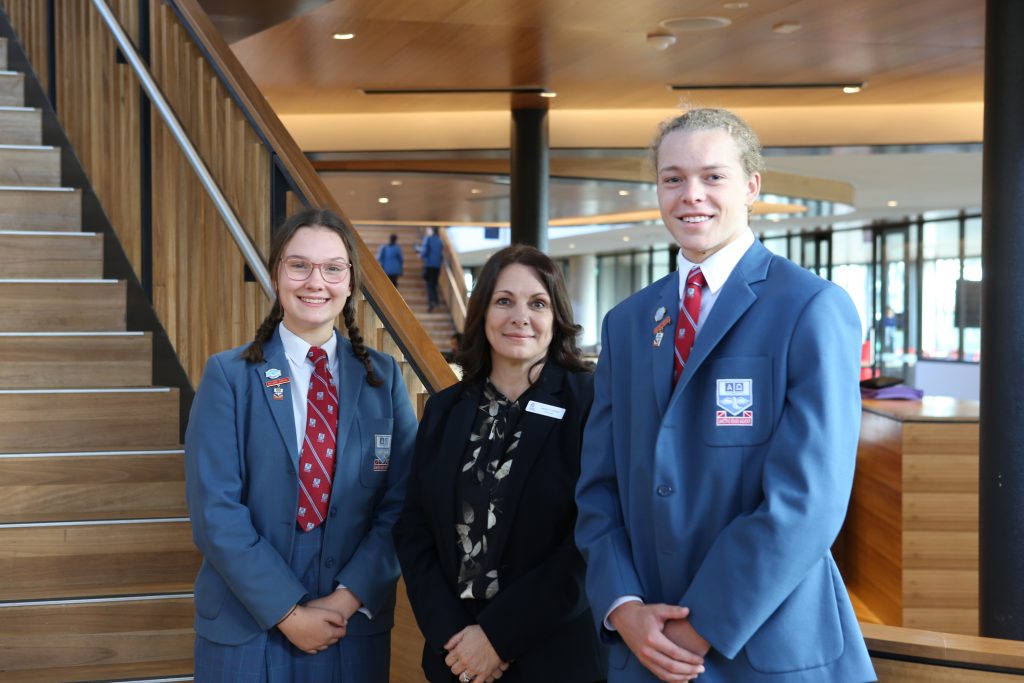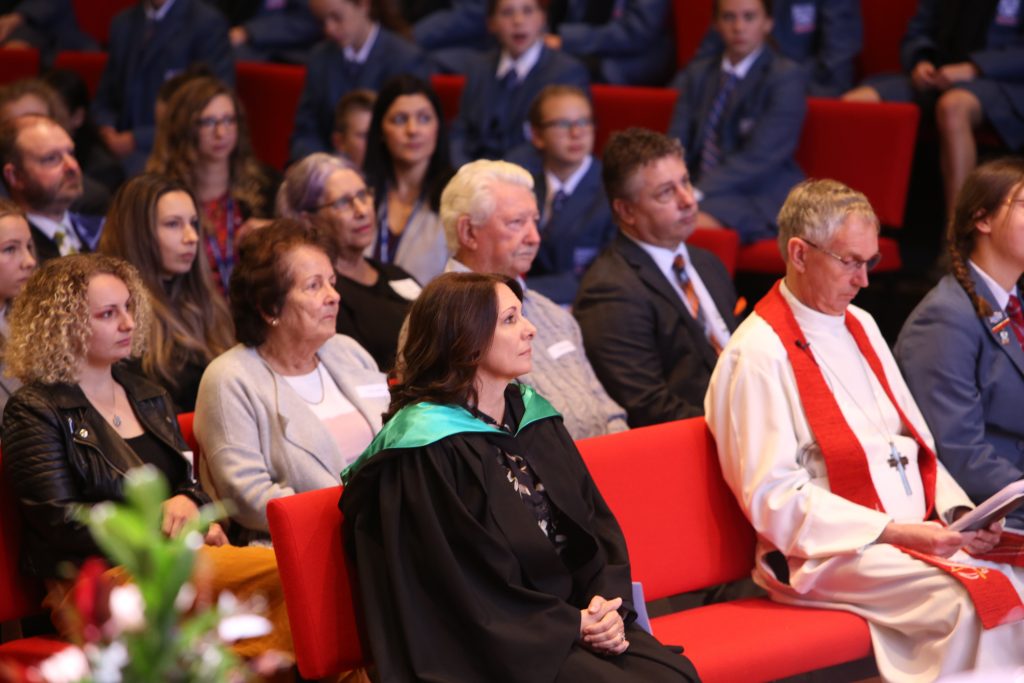 Jacqui Layfield was officially installed as Luther College's sixth Principal in a special service in May held in the College Chapel. Students in Year 7 and Year 12 along with a number of special guests filled the Chapel with other year levels watching via live stream.
Pastor Mark Tuffin and Pastor Richard Schulze commenced proceedings, with District Bishop of Victoria and Tasmania, Lester Priebbenow, officially installing Jacqui Layfield in the role of Principal. Chair of the Luther College Council Mrs Helen Suke welcomed Jacqui, offering her well wishes on behalf of Council as she leads the College into the future.
Special guests included Bishop Paul Smith (District Bishop of QLD), Pastor Peter Ghalyhini (Ringwood Knox Lutheran Parish), Greg Schneider (BLEVNT Chair and Principal, Good Shepherd Lutheran Primary School) together with members of the Luther College Council, Lutheran Education Victoria, New South Wales and Tasmania and Lutheran Education Australia.
College Captains Alyssa Sanders and Ewan Webber welcomed Mrs Layfield on behalf of students, also delivering prayers throughout the service. Year 12 student Christina Wong performed a beautiful rendition of Mambo by Christopher Norton on the Chapel piano.
A morning tea was provided afterwards served by students in the function room.
OPPORTUNITIES TO EXPLORE AND INNOVATE
When a student starts at Luther, they have many exciting opportunities to try different subjects, to explore new things and adventure into uncharted territory. That choice travels with them throughout their middle school journey into senior school.
What you may not realise however is the breadth and depth of that choice and how subjects are tackling the challenges of life and work in the 21st century. Below showcases just a handful of the innovative subjects described by our Year 9 students themselves.
AUGMENTED AND VIRTUAL WORLD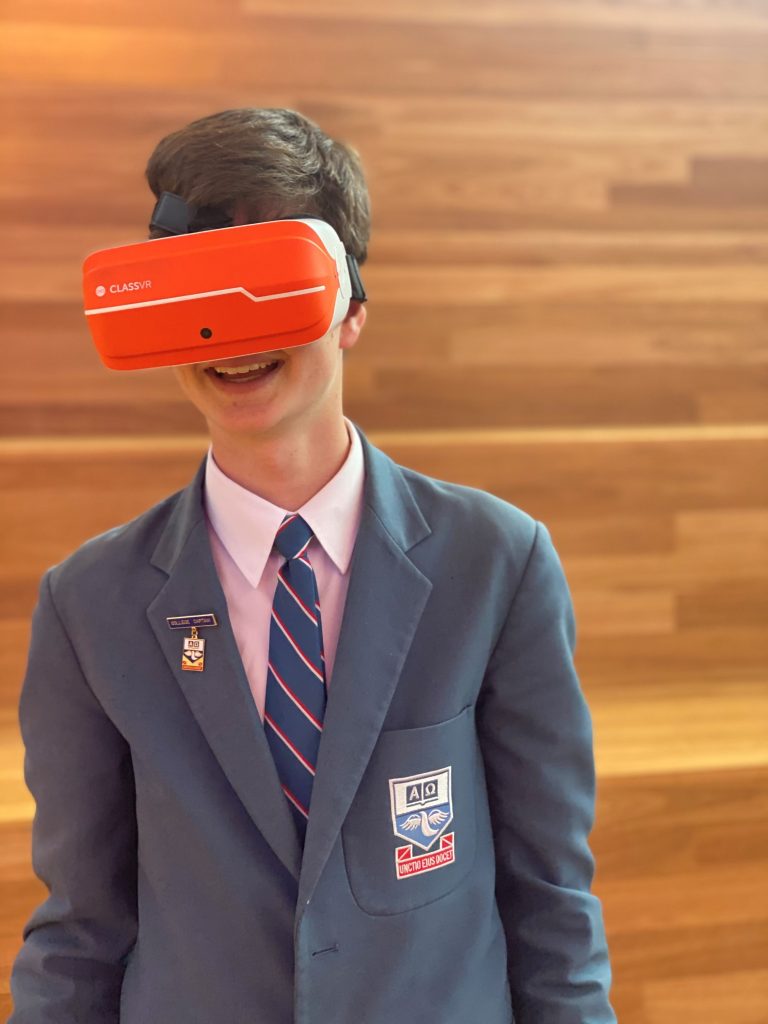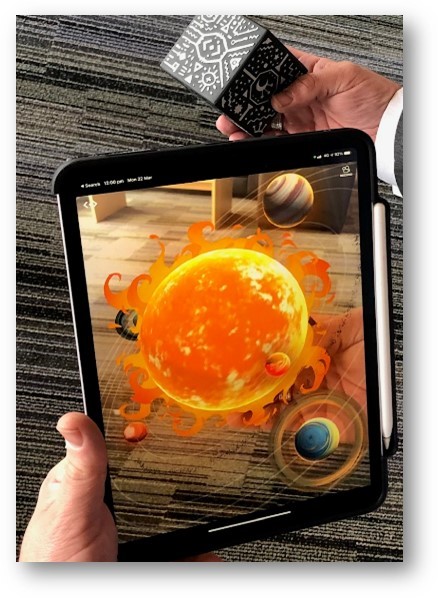 Seeing the world differently or in many cases virtually is gaining traction. With travel restrictions upon us, through the likes of virtual reality, we can still step inside the world's most amazing places without leaving our home. Augmented reality is also increasingly popular, allowing us to see the real-life environment right in front of us – only with a digital augmentation overlaid on it.
Hear from Year 9 student Ryan Farley about how he is learning about and creating opportunities using augmented and virtual reality.
Augmented and Virtual World is a compelling and thought-provoking subject. When I chose this as an elective at the end of last year, I'll admit I didn't know much about it! Nor did I know how rapidly it is progressing and the impact it is having on our lives.
The Augmented and Virtual World subject is now in its second year at Luther. It is an amazing subject to be taking because the field of augmented and virtual reality is changing so rapidly! Some of the programs and uses of augmented and virtual reality are growing so quickly that even year by year, the programs and uses form them change. It is understandably challenging to teach, as the work, programs used and technology change every day!
Mr Borlenghi, our teacher, does a great job at engaging us with the work and teaching such a fast-growing subject. In Term 1 we looked at augmented reality and its current uses before making our own augmented reality using the AWE program. Our first project was a greeting card with art on the cover. When you scanned the QR code, a video would pop up on the front of the card showing a time-lapse of the card being made. We also focused on the program CluckAR, by CHOICE. This program helps customers choose ethically sourced eggs. Our major project was to design a program that uses a similar idea to Cluck AR. We used the problem-solving methodology to design the program, with the goal of helping customers solve an ethical problem.
In Term 2 we focused on virtual reality. After looking at the current uses, we tested out the virtual reality headsets. Our major project for the term was to create a 360° video in groups. We were given 360° cameras and scripted and filmed a video that could be viewed inside the virtual reality headsets. This subject has changed my view and approach, as I begin to wonder how the future of augmented and virtual reality will affect our everyday life. In 5-10 years, augmented and virtual reality will be vital to our careers, education and entertainment. Augmented and virtual reality is becoming a huge part of our lives so rapidly and it is amazing to have the opportunity to learn about such an exciting subject at Luther. Ryan Farley – Year 9

DESIGNING SPACES FOR THE FUTURE
Over the last 50 years, the way we use space, particularly in cities, has changed dramatically. Warehouses, factories, and other urban buildings have been prime locations for re-purposing and renewal. These spaces are being designed to meet multiple social, economic and environmental issues and its exactly this our students are exploring in Designing Spaces for the Future.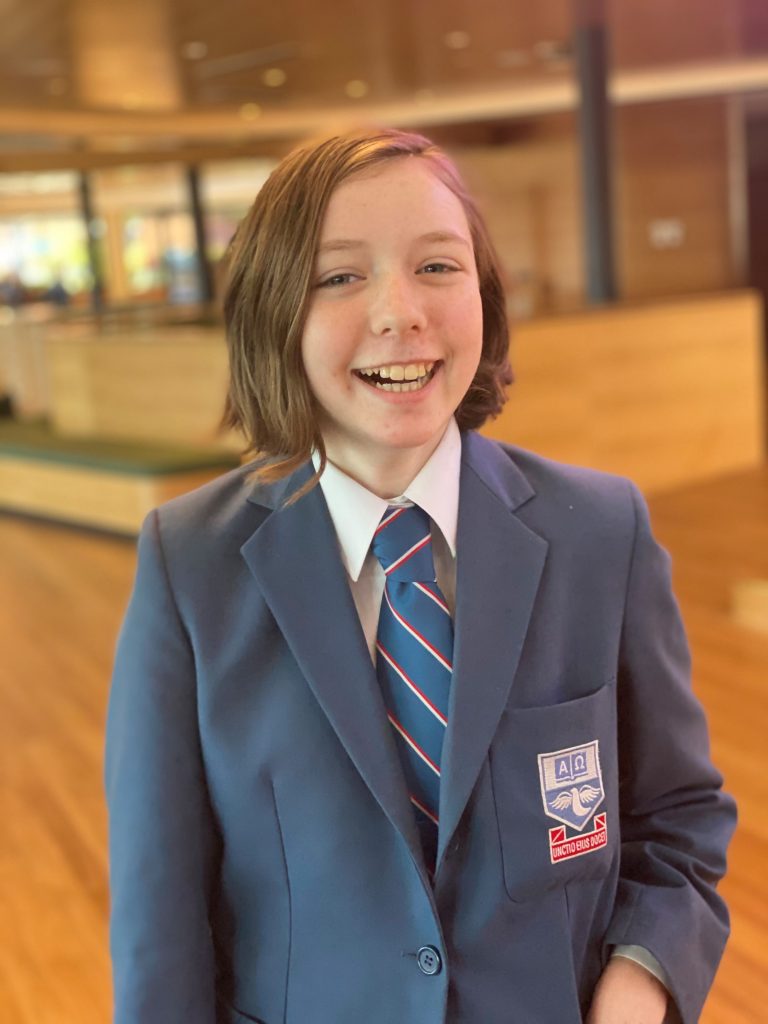 I chose Designing Spaces for the Future as I originally thought it would be a designed-based subject in terms of drawing buildings and perspective-based work, which as an artist is a skill I wanted to build on. It does incorporate this but also focuses upon how public buildings and other spaces are established, how spaces can be re-purposed and how successfully this can be achieved when designing within heritage buildings with strict historical overlays.
Designing Spaces for the Future investigates the sustainability aspects to be considered, who the stakeholders are of the building and wider community, innovative re-designing of spaces, and the renovation process for heritage buildings.
The subject also involved going on excursions for assignments. Earlier this year we visited LCI or LaSalle University of Melbourne in Collingwood. The heritage-listed building was originally a factory for the Foy & Gibson Company. It went through many renovations to become a fully functioning University and we looked at the renovation process and why it is important to preserve heritage buildings. This was also an opportunity to look at the courses the University has to offer if you were interested in going to a University for the Arts/Designing. This was something I did not expect we would get to do in this subject. I have learned about the deeper impacts that things like sustainability, placemaking and the creative class have on our modern-day society. This subject also links into the other subjects I have chosen in Year 9 such as Art, as Art and Architecture go hand-in-hand. Phoebe Jackman – Year 9
SEMESTER ONE SPORT UPDATE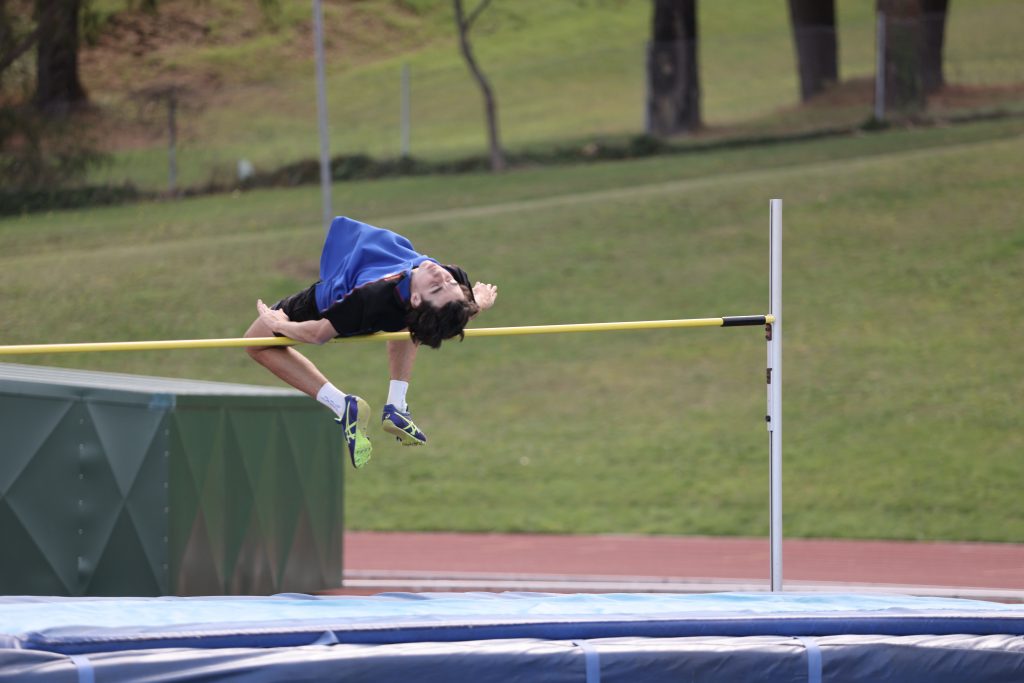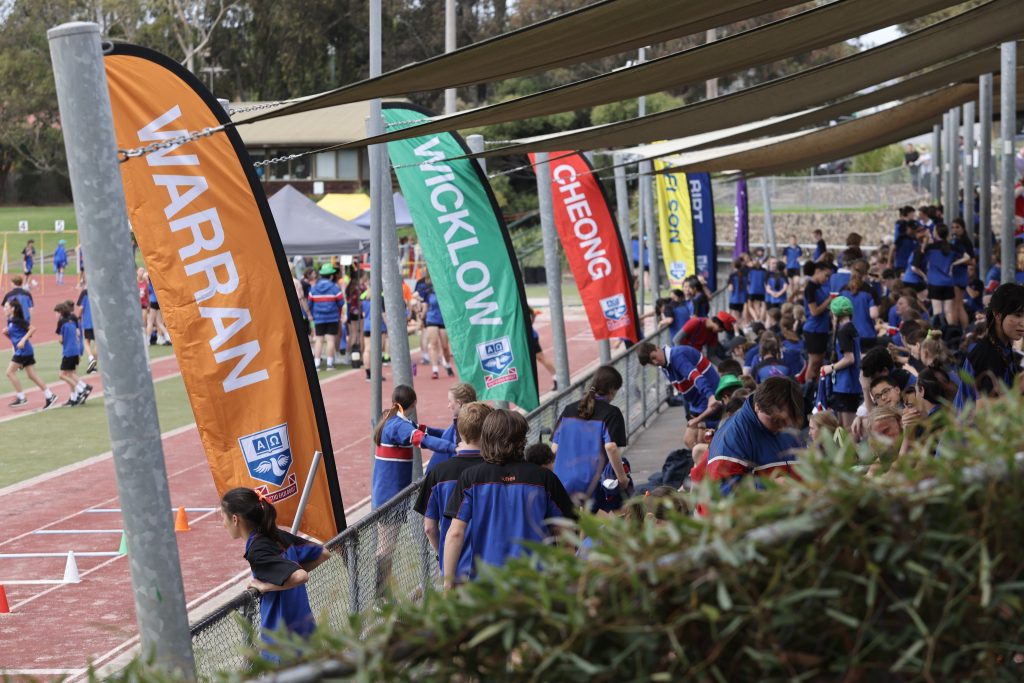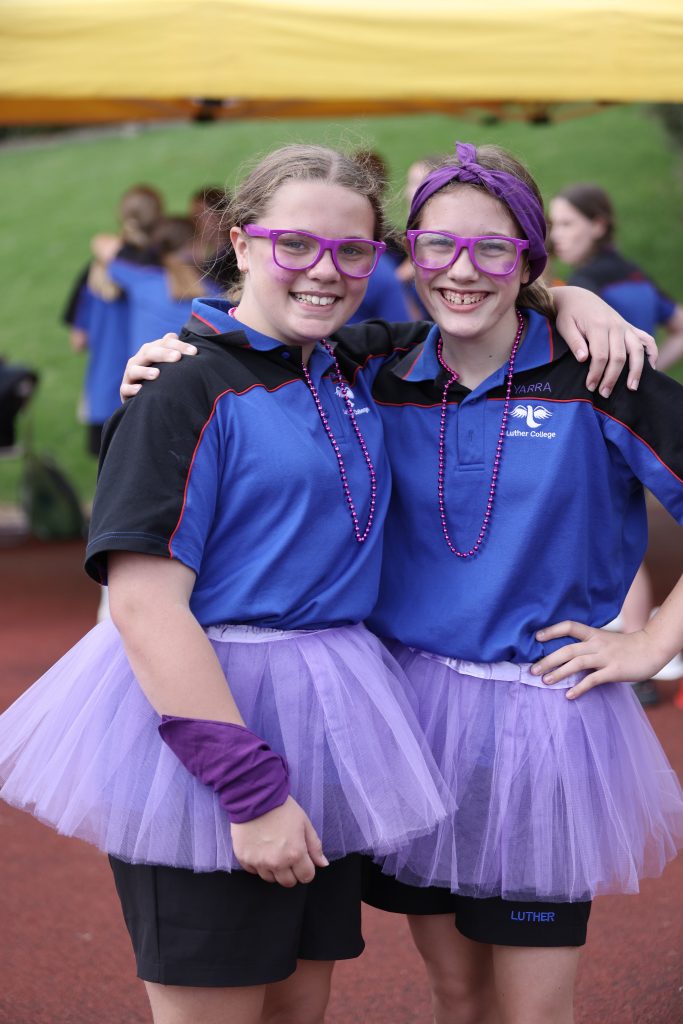 After a year full of challenge and uncertainty, the Luther College community has fully embraced the opportunity to once again be active and involved in the world of sport in Semester 1.
Through the weekly Eastern Independent Schools Melbourne (EISM) competition, students have engaged in teamwork and collaboration, striving for excellence in the Central Division. Semester 1 has seen some great results. We also celebrated our Houses with whole school House carnivals for swimming and athletics, a great way to bring the community together and witness both individual excellence and team success. EISM Carnivals showcased our students and their hard work with excellent results, a testament to their hard work and dedication to their craft.
After the House Swimming Carnival was postponed earlier in the year, our staff and students embraced the rescheduled event with open arms. Held at the Oakleigh Recreation Centre, the vibe was bustling with student activity and involvement from individual events to relays and of course the renowned novelty events – synchronised swimming and water polo. In the first-ever 6-House event, with the introduction of Warran and Yarra Houses, our students battled it out in the pool while their peers cheered them on. The Year 12 water polo event was a hit, but nothing compared to the organisation and creative prowess of the synchronised swimming! Finishing the day with the relay events, it was Birt House that reigned supreme.
In an excellent display of talent, there were four individual records broken on the day: Sam Churchward in the U14 Boys 50m Butterfly and U15 Boys 100m Freestyle, Chantelle Underwood in the Open Girls 100m Freestyle, and Ava Kernich in the U15 Girls 100m Freestyle.
The EISM Swimming Team was fierce and looking for a successful Division 1 Swimming Carnival. After placing second in 2020, the team was looking to go one better in 2021. With some excellent talent coming through the junior years, it was an exciting event, full of anticipation. The team competed exceptionally well, with some stand-out performances from across all age groups. A close competition all night, with Luther College winning three age groups; the U15 Girls, U16 Girls and U21 Girls, which formed that overall Girls Aggregate Trophy but again placing second overall.
Just 10 days after the House Swimming Carnival, students backed up to compete at the House Athletics Carnival. In a stunning display of talent and expertise, students from across the school battled it out on the track and in the field for House pride. There were novelty events and games for students to engage in while others chose to support their fellow peers in their events. At the end of the day, a phenomenal eleven records fell. Congratulations to Mia Morgante, Aiden Marasco, Annie Harrison, Shakira Harding, Emily Rankin, Bridie Neale, Ash Rooke, Eve Parry, William Ladd, Darren Menezes, and Tom Coghlan. There can only be one winner for the day, which once again was Birt House, victorious in 2021 House Athletics and House Swimming!
The EISM Division 1 Athletics Carnival was held on Tuesday 4 May and after the event was cancelled in 2020 our team came ready to compete. Starting extremely strongly, Year 8 student Shakira Harding broke the U14 Girls 80m Hurdles Record (from 1987) and Year 7 student Emily Rankin broke the U14 Girls Discus Record (from 1997). It was clear to see that Luther's students were well prepared and ready for a fight in every age group, winning events on the track and in the field. At the conclusion of the carnival, Luther College had successfully won six age groups: U13 Girls, U13 Boys, U14 Girls, U15 Girls, U16 Girls, and U21 Girls. This fantastic effort saw them crowned EISM Division 1 Overall Champions, while also winning the Boys Aggregate and Girls Aggregate Trophies. A sensational performance and our 12th consecutive win. And after all this excitement, passion, and involvement…there is still so much more to come in Semester 2!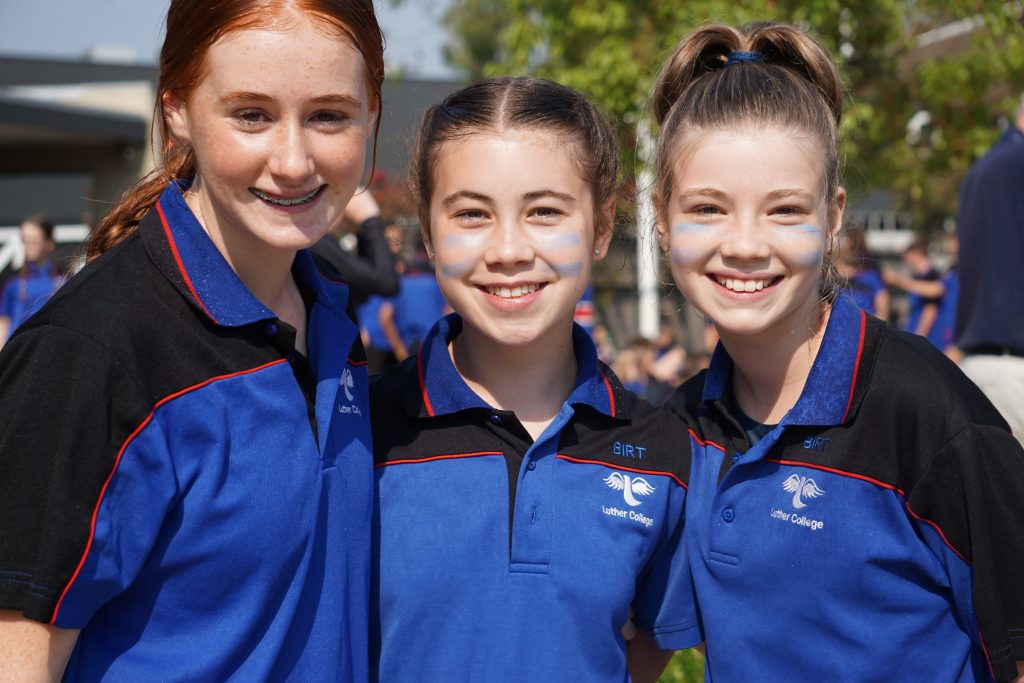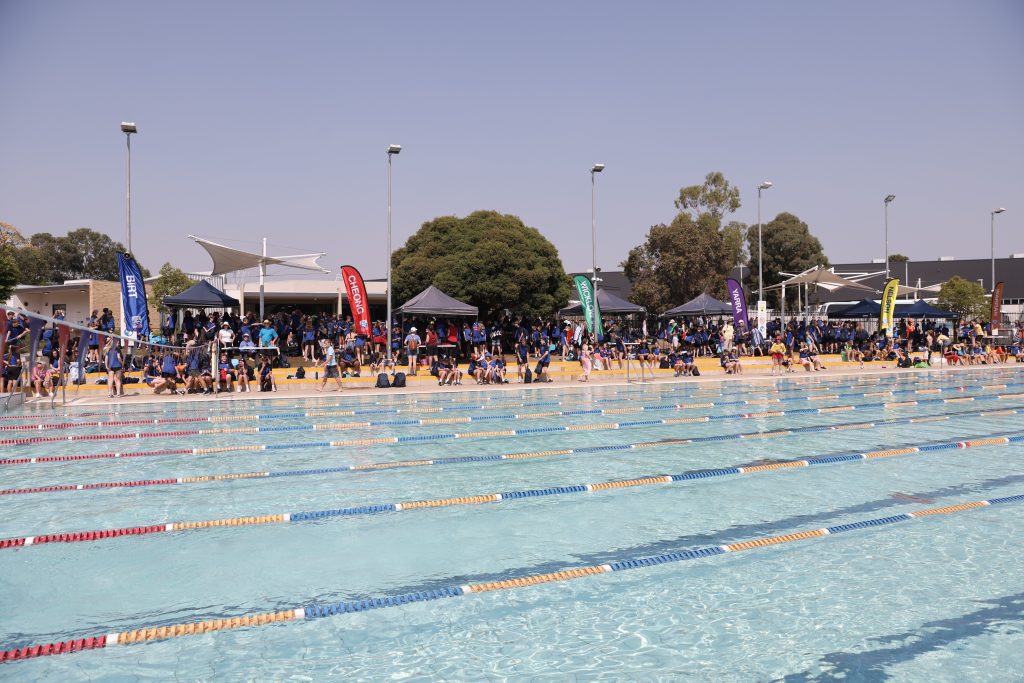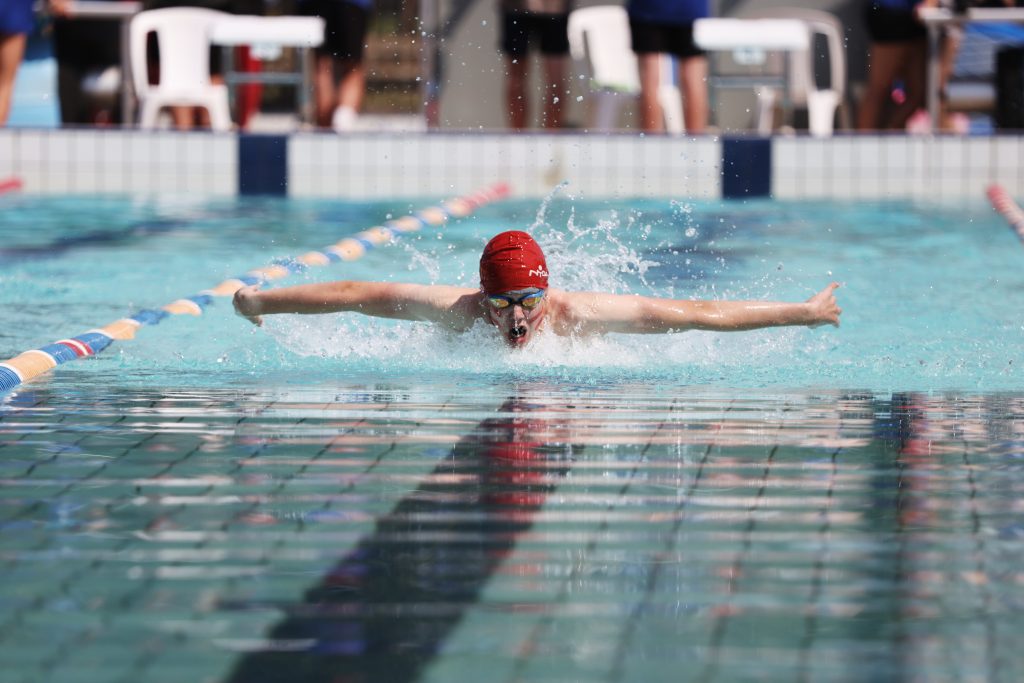 Shane Asbury – Head of Sport
ASPIRE PROGRAM
The Advanced Support Program and Individual Recognition of Excellence (ASPIRE) was founded in 2020 and is designed to identify, support and recognise students who are pursuing performance excellence in the fields of Performing Arts or Sport. It has been developed to provide a clear and formalised approach to the way in which we identify, support and recognise our students that are pursuing elite pathways in those areas. The program feeds identified students into our Pastoral Care team to provide support while they combine their performance or sporting commitments with their academic pursuits. Aspire students have access to personal development opportunities through participation in workshops designed to help build mindset skills, an understanding of high-performance psychology and make connections with other like-minded individuals to help build relationships and resilience.
The program celebrates and recognises student achievements and milestones as well as strengthening community connections and partnerships into the future.
In 2021 we have 48 students from Years 7 to 12 in the program with approximately 20 disciplines across Sport and the Performing Arts. Examples of the fields that our students are pursuing excellence in are Basketball, Voice, Dressage, Karate, Acting, Cricket, Diving, Piano, Cross Country Mountain Bike Racing and Water Polo. Each student has an ASPIRE Profile available for current students, parents and staff to see their chosen field, hopes and dreams.
The ASPIRE program provides recognition, connection, support and celebration of our students reaching for the stars.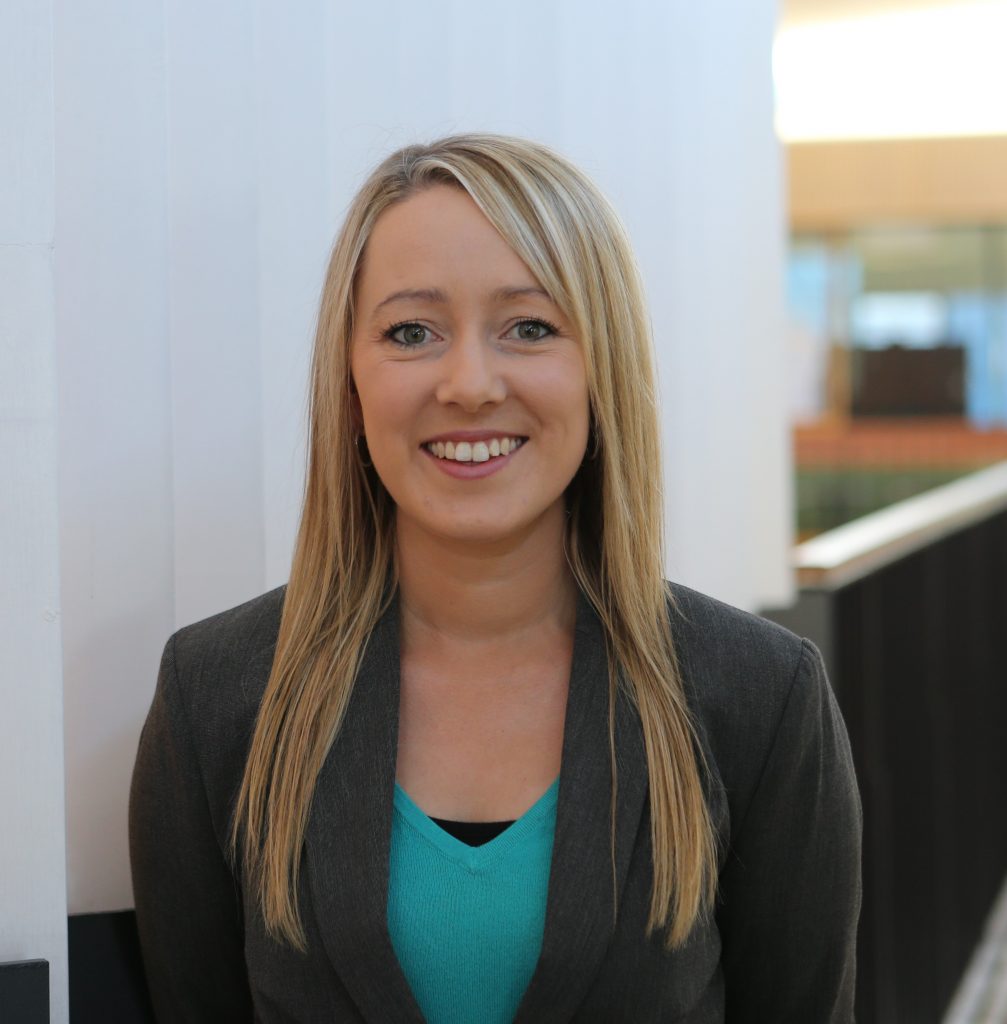 Celeste Acfield – Director of Educational Operations
Holly Miniken Year 12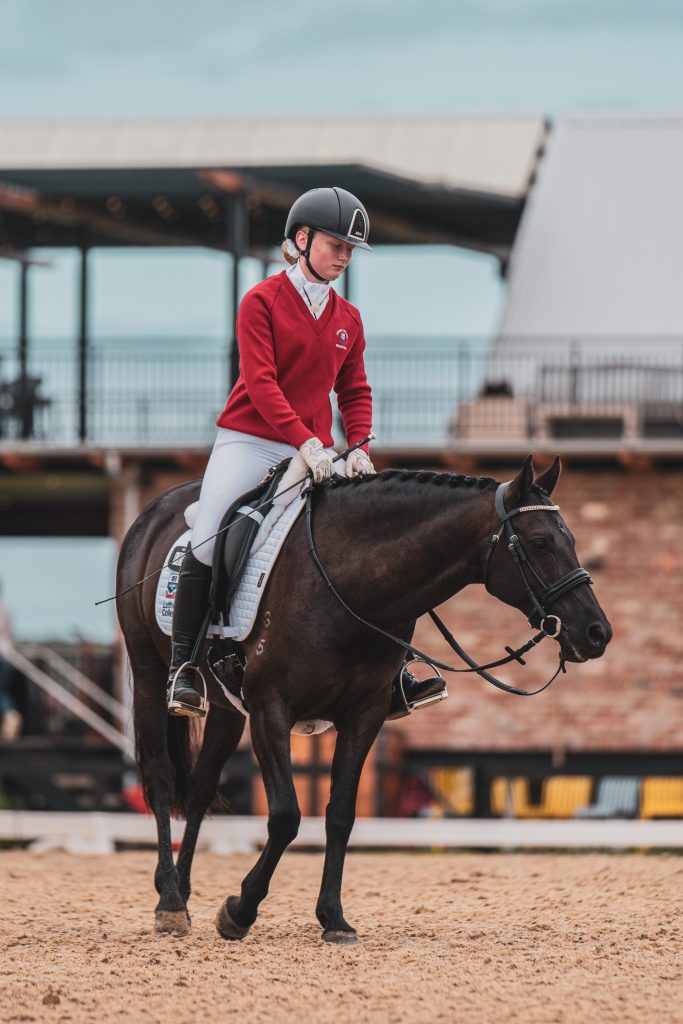 What is your chosen field? Equestrian – Dressage
How long have you been doing dressage? Approximately five years.
What inspired you to take up dressage? I began riding relatively late at 13 years old. After three or so years, I had experienced multiple injuries from various falls but despite the risks, I did not want to quit the sport, so I decided to focus on the discipline of dressage. I have always enjoyed the technical side of dressage, and particularly have an affinity with the necessary attention to detail, however, I especially love the fact that finding harmony and harnessing the communication between the rider and the horse is at the heart of the sport. I now compete in pony dressage with my pony, Iona Park Beethoven, or 'Roly.' I have had to endure a lot of setbacks in these short years but everything I have experienced, good or bad, has added to my resilience, skillset, and passion as a rider.
What are some of your proudest moments? In 2021 I have already achieved some great results including:
Victorian State Pony Club Dressage Championships
Champion title for grade three dressage state leader
VEIS Dressage Round 2
3rd and 6th place, 4th overall – senior novice
Boneo Summer Dressage Championships 7th and 7th place- novice pony and 4th and 5th place- prelim pony
Monash Dressage Jackpot
1st and 2nd place- Grade two dressage
Hi form Autumn Dressage Championships 2nd and 4th place- Novice Pony
Interschools dressage series round one Reserve champion- Novice senior Championship
Youth Dressage Championships 
7th overall- Interschool preliminary championship
10th overall- novice pony championship 8th overall- pony preliminary championships
Awarded the 'most successful combination' award for YDS D Squad
What does the future hold? With my dressage pony, Iona Park Beethoven, we are aiming to reach EA Medium level by 2022 whilst being competitive in Novice and Elementary through 2021. We will continue to compete at the biggest competitions of the year such as the Victorian Youth Dressage Championships and the 2021 Pony Club Nationals for Team Victoria.
How do you stay on top of things during lockdown? Continuing to keep my pony in regular work at competition level is very difficult through lockdown.  My horses are kept off our property, so it is challenging to stay in lockdown whilst travelling to care and keep my horses in full work. To stay on top of things I am extremely organised with my schedules and planning. Managing to juggle my school workload and maintain an active routine for my horses is challenging however I manage to get it done with the support of those around me paired with lots of planning.
What does being part of the ASPIRE program mean to you? The ASPIRE program is important to me as it helps motivate me to push myself to my limits both through my academics and sporting and to keep learning how to master my training.
Christina Qian Year 9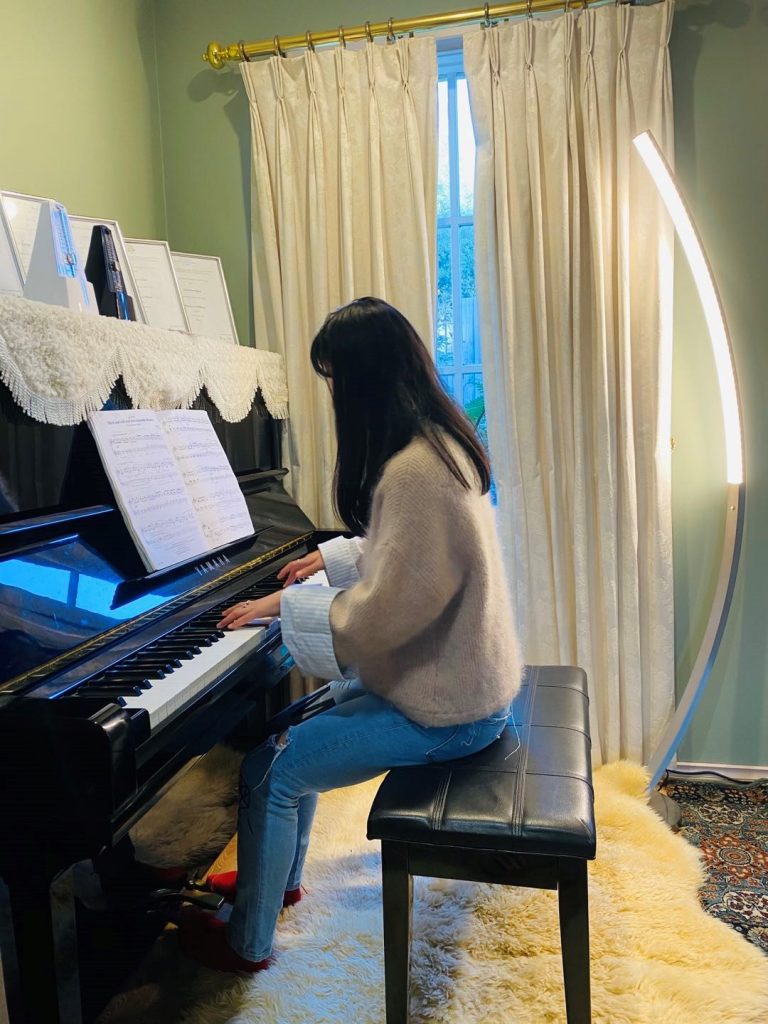 What is your chosen field? My chosen field is music, specifically the piano. I've learned music in many different aspects, ranging from the piano, where I am currently at Grade 8, to learning chords and notes on the guitar and to studying music theory and music history.
How long have you been learning the piano? I've been learning the piano since I was four, so over ten years now. I only started to learn music theory at the start of 2020, but I've been very interested in music history since primary school. I picked up the guitar in Year 7.
What inspired me to take up the piano? I originally started playing the piano as a kid because my mum agreed that after every piano lesson, I could get KFC, but after I moved from China to Australia in year two, I was given a choice to give it up, but I didn't because I genuinely really enjoyed the feeling that I got after being able to play a piece well after much practice.
What are some of your proudest moments? As a Year 8 student, I played in front of the new Year 7 students and their families in 2020, I have also achieved honours in a music theory test, a credit in my Grade 7 piano exam and a distinction in my Grade 6 piano exam.
What does the future hold? I'm still thinking about whether I want to major in music/piano in the future, but I will definitely do VCE music. Although I'm still not sure about playing piano professionally, I want playing the piano to be a skill that I'll remember for the rest of my life – I feel the most at peace sitting on the piano. Perhaps when I'm an adult and if I am stressed it will also be a great tool to help me through anything.
How do you stay on top of things during lockdowns? I make sure I practice every single day, in fact, it actually helped my music theory progress, because I have more free time to do research and to practice. I have also been learning the guitar during lockdowns.
What does being part of the ASPIRE program mean to you? Being part of the ASPIRE program means that my piano abilities have been noticed by the school. It gives me a stronger sense of belonging as the ASPIRE community is very welcoming, and I have similar interests to other people in it.
CHALK THE WALK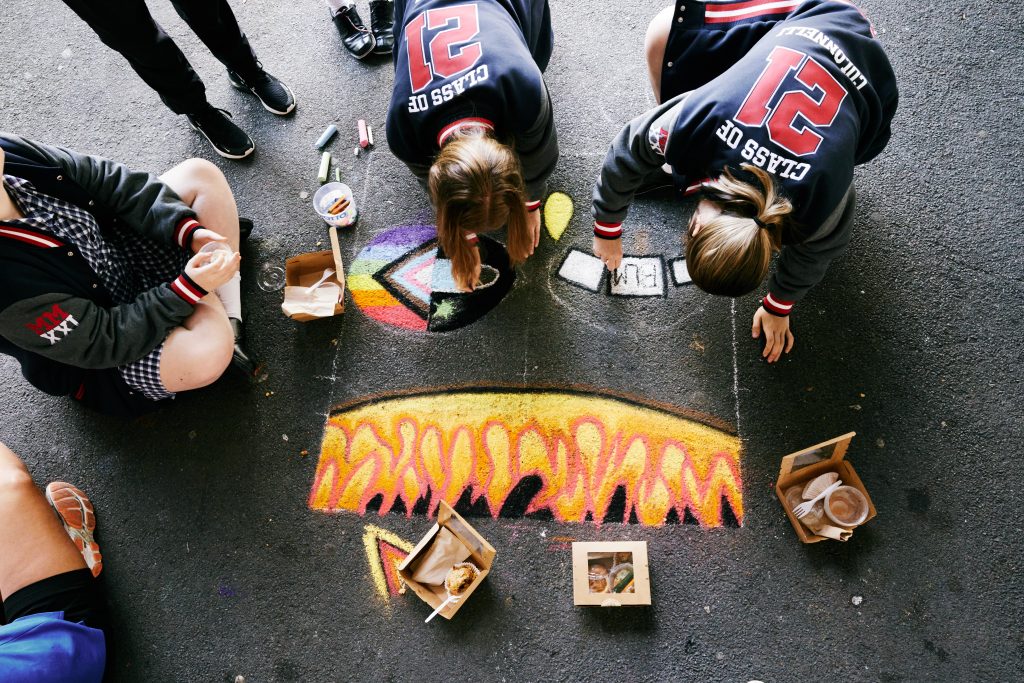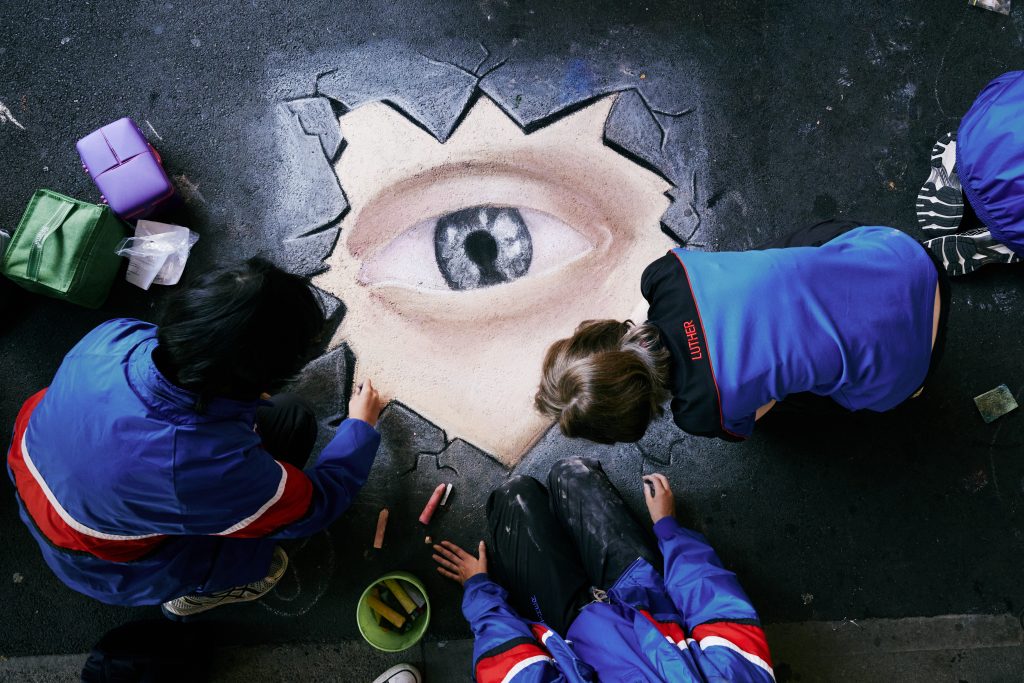 Each year, during Arts Week in March, students from across the school gather to 'Chalk the Walk' – turning a charcoal path of concrete into a sea of colour and creativity. It's lovely to watch our older students take the time to encourage younger students, even our music students get in on the action with a lunchtime concert.
Lisa Trent
Director of Marketing and Community Engagement