A wonderful start to the year
We had yet another record enrolment year for 2023 and enjoyed having our new families on site to celebrate the beginning of the year. This year the College welcomed over 130 new enrolments and over 70 families.
We also welcomed the following staff to the College, Mrs Eliza Silva, Mr Darren Horton, Mr Gavin Newport, Mr Jayden Williams, Ms Sophie Fernandez, Mrs Rowena Kohinga, Mr Josh Rosaia, Mrs Eugenie Oule, Ms Kelly Wilson, Mrs Sandra Hudson and Mrs Amanda Ferguson.
Farewell
At the end of Term 1 2023, Lakeside College will farewell our Principal Mr Tom Brennen who faithfully served our community for 6 years.
During his time as Principal, the College has grown by over 60%, greater sustainability achieved, a wonderful staff culture built and an array of building projects completed, including the Primary and Senior Primary Building, Visual Arts and Technology Centre along with our outdoor recreational areas.
We are also excited to announce the College Council has appointed our current Head of Secondary, Mr Robert Tassoni, to the role of Acting Principal during Term 2. Mr Tassoni has significant experience as a senior leader across several schools and has previously fulfilled the role of acting Principal.
We wish Tom all the best in his new Principalship of Cornerstone College in the Adelaide Hills
Building Update
Lakeside College had significant change in its grounds over the last two years with the completion of several new buildings.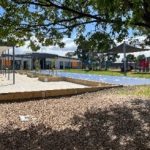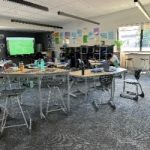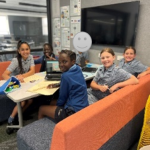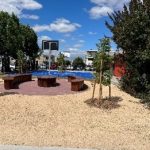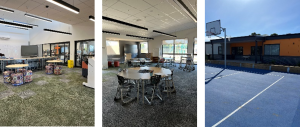 2023 Year 5 and 6 students welcomed the year with a new Senior Primary Building and outdoor recreational area.  The space is a contemporary, flexible learning environment consisting of four main classroom spaces and breakout areas. The design of the new buildings allows cross-class and year level activities, collaborative spaces and a physical environment conducive to best contemporary learning.
Our Visual Arts and Technology centre spaces allows the College to expand the breadth of work undertaken and the mediums used, such as the inclusion of textiles and clay work. This space allows us to explore increased curricular and extracurricular offerings through the addition of technology spaces.
In addition to a half-court basketball court, our senior students have access to passive spaces for reflection and outdoor activities.
Camp
Our Year 11 and 12 students enjoyed time away on a three day retreat where they focused on peer bonding, self reflection and self discovery ensuring wellbeing is at the forefront of students minds as they head into their final years.
The retreats were a great success with many fond memories and activities for students to take home and share with their families.