Life on the Farm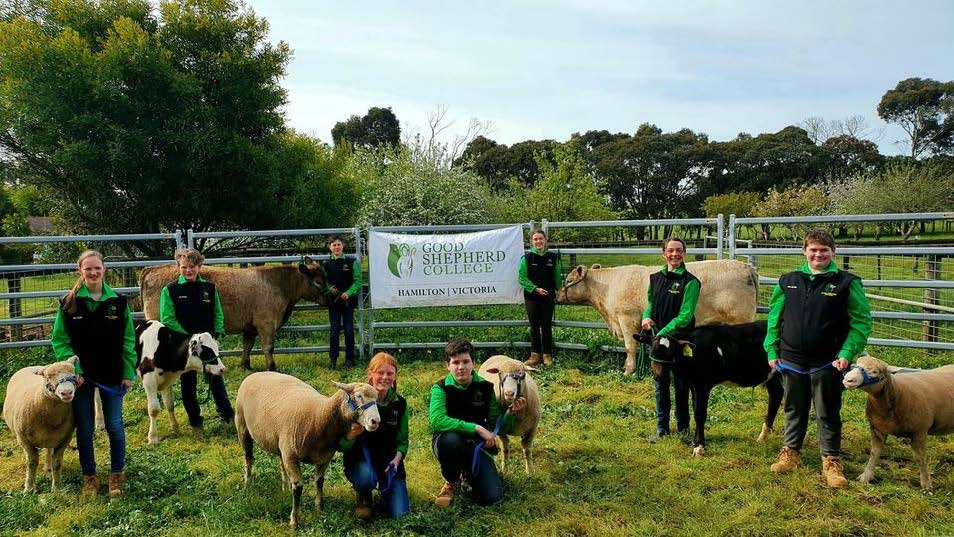 Agriculture is booming in regional Australia. World record prices for products, innovative technological changes improving the working conditions on farms and a resurgence in people seeking a "tree-change' lifestyle following the COVID pandemic have all contributed to a strong sector.
Good Shepherd is well placed to support opportunities for students to engage with and see a future within Agriculture – from Prep through to Year 12 and beyond. Agriculture, much like farming, is a way of life for our students.
Interdisciplinary Connections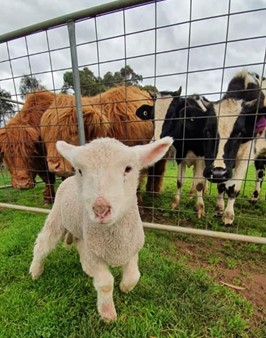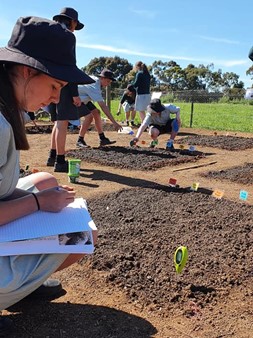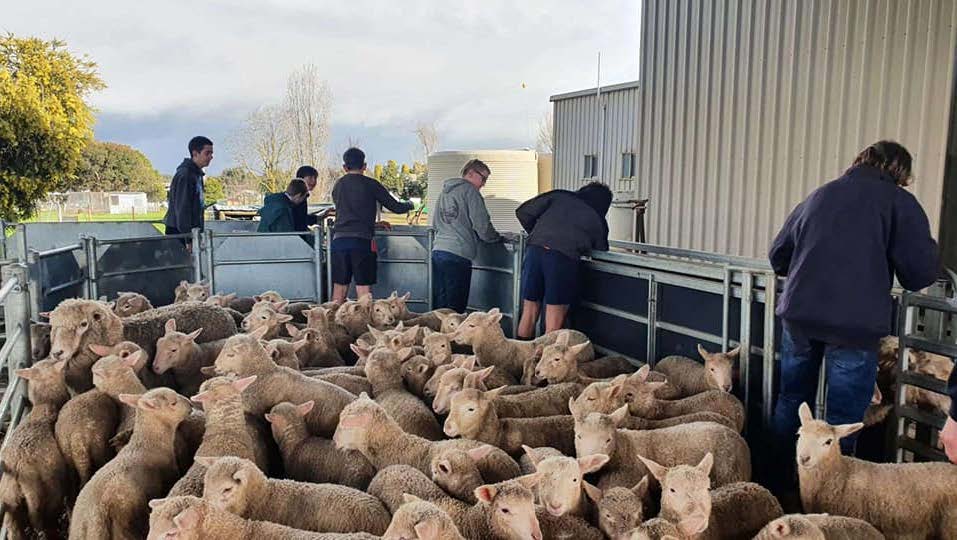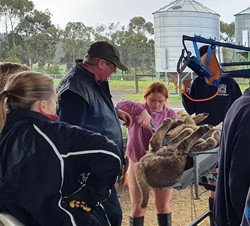 Agriculture provides a rich source of experiences to enable Science, STEM, Math, Humanities and English to integrate course materials. For example, the College's relationship with the Department of Agriculture enables students to undertake a field plot each year to measure germination rates of different seedlings under different conditions. Weather and soil conditions are measured with an electronic sensor; data is recorded, graphed and analyzed; reports constructed and forwarded to the Department of Agriculture for feedback.
Year 9/10 Enterprise
Each year, Year 9/10 students run an Ag Business for 6 months. This includes developing a concept and pitching it to the Principal and Business Manager for a loan of up to $200; budgeting and accounting practices to manage funds; maintaining animal husbandry or agronomy techniques to ensure viability and experiencing all the of challenges in running a 24/7 operation (who feeds, when, how often; managing illness/disease; exploring value adding opportunities). Over the past few years we have had cattle, sheep, chickens (meat and layers), quail, salmon trout, aquaponics, yabbies, cut flowers, pigs – just to name a few. At the end of the experience, students write a reflective task on their experiences as well as receive a financial benefit (if they manage to pay back the $200 load) for their efforts. Real life learning at its best – sometimes the hard way.
Farm Stay Program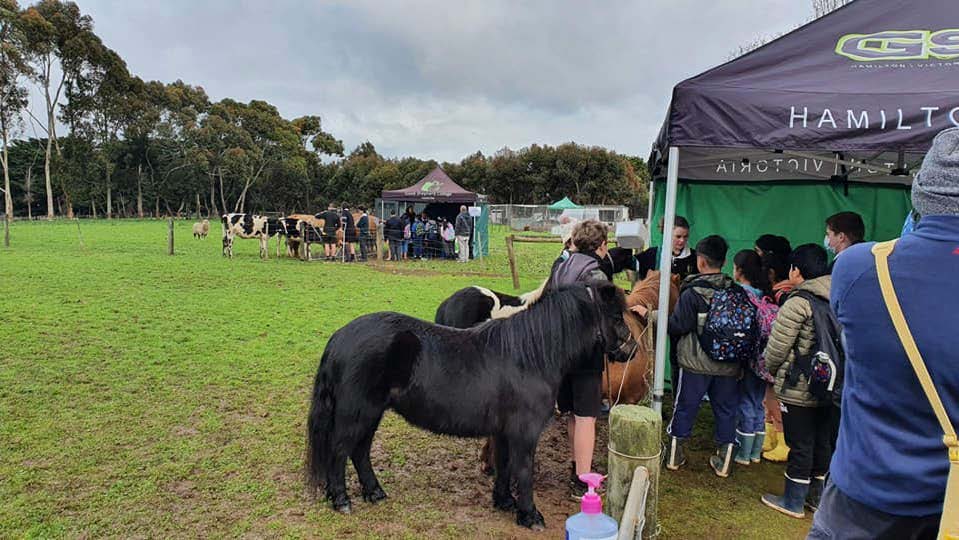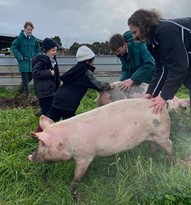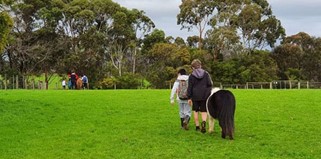 Each year, the College is excited to welcome groups of Year 4 students from our sister Lutheran schools, who spent 3 days staying on our senior campus. During their stay, nearly all of our whole senior campus community is involved in providing learning experiences for our guests. These include running workshops on animals, acting as guides between activities, cooking meals, organising evening activities or simply spending time with students playing games. This authentic learning experience provides students with direct feedback from Year 4 students rather than their teachers. Our students certainly gain an insight into what it is like to be the "teacher"!
Social Ag Club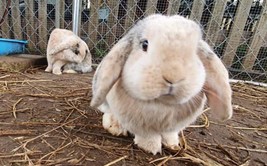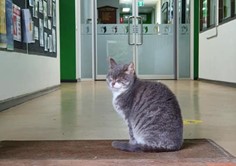 For students who struggle with social interactions, we have a number of animals which support student wellbeing. Tabitha (our school cat) and Stella and Lou (our school rabbits), provide an opportunity for students to connect, not only with the animals, but also with similar interested students. These animals assist in supporting students with improving attendance, teaching responsibility in caring for something other than themselves and improves students emotional responses when feeling anxious.
Industry Pathways – RIST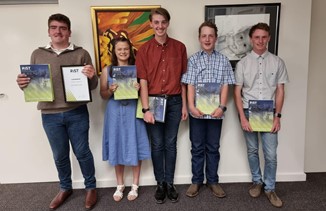 Our Year 10 to 12 students have an opportunity to attend the Rural Industry Skills Training Centre located 5 mins from the College. Starting at a Cert 2 in Agriculture all the way through to a Bachelor of Agriculture, many of our Ag students work through this program to achieve chemical, chainsaw, quad bike and tractor certification, as well as learning about current agricultural practices. This pathway also provides direct industry links, with many of our students entering the workforce as shearers, diesel mechanics, farm hands or agronomists – as well as going back to help mum and dad on the farm.
Ag Club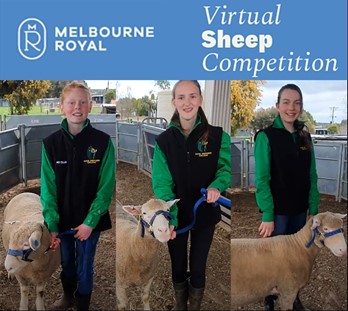 We run competition Ag experiences for those learners who want to take Agriculture to the next level. This includes teaching students how to show and judge cattle, sheep and chickens for competition to Albury/Wodoga and Melbourne Shows. Our students have also been training other local schools on how to work with animals, as well as acting as judges for their competitions.
At Good Shepherd, we are truly blessed to live and work in such an amazing environment and to be able to provide these unique learning experiences for students.
Shane Jurecky
Principal