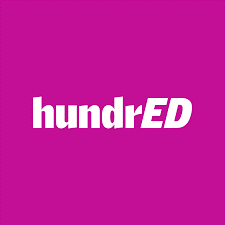 Some of you would be aware that I am one of two (Derek Bartels is the other) Country Lead ambassadors for HundrED.
HundrED is an organisation whose headquarters are based in Finland but through it's mission and important work of identifying and helping to scale educational innovations has spread across the world, with ambassadors in over 100 countries.
The community at HundrED believes that the purpose of education is to help every child flourish, no matter what happens in life. To thrive as global citizens, children must be equipped with a breadth of skills, In a fast-changing world focusing on traditional academic skills will remain important, but that is not enough. To read more about the mission of Hundred you can visit here: https://hundred.org/en/about
The work of HundrED is centred on identifying important innovations in education and giving them a platform and an opportunity to scale and have a positive effect on as many students as possible. The team at HundrED also works collaboratively with research partners to shine a spotlight on important and emerging educational issues and trends. Some previous spotlights have focused on Visual Arts in Education, Equity during Covid-19, Creativity. The 2021 Spotlights are focused on Teachers for a changing word, Parental Engagement, Holistic Education in South and Southeast Asia and the latest Spotlight soon to be released is focused on Social and Emotional Learning (SEL).
You can find all the information about current and previous spotlights here: https://hundred.org/en/collections#spotlights
One of the biggest events in the HundrED calendar each year is the Global Summit where the next Global collection of the 100 most influential innovations is released. As a HundrED ambassador one of the ways I support the work is to volunteer time to be part of the Academy. The Academy is a group of people with varied skills, experience and influence in Education from across the world who review and assess some of the candidate innovations for the global collection. As an academy member, I am given 35 innovations to research and judge against impact and scalability. This work usually takes place in July working towards the November release of the new collection.
This process itself is a wonderful opportunity to dive deeply into some simply incredible innovations that are taking place to improve the educational access and outcomes of children all over the world. In this fortnight's newsletter, I will highlight five innovations that I believe fit our Australian context and could be interesting for you to investigate.
Learning about Forests (LEAF)
Learning about Forests advocates outdoor learning and hands-on experiences which result in the students getting a deeper and more involved understanding of the natural work. While the focus of the LEAF program is on tree-based ecosystems, the skills and knowledge acquired can be applied to any natural environment. You can find more information here: https://hundred.org/en/innovations/learning-about-forests-leaf#f9709db2
Makers Empire
Develop Primary and secondary children's creative confidence and design thinking skills with the world's most fun and easy-to-use 3D Design and Technology program. Makers Empire is an all-in-one solution for teachers to effectively plan, teach and assess students' work against Design and Technology and Engineering Curriculum using design and 3D printing. You can find more information here: https://hundred.org/en/innovations/makers-empire-3d-learning-program#f9709db2
MOOV Kids
Supports the development of the fundamental movement skills which every child should master by the age of 8. The structured ready to use curriculum and instructional video resource with search options is easy to use and implement. The physical ability and wellbeing of children are noticeably deteriorating. The teaching of meaningful movement skills has never been more urgent. You can find more information here: https://hundred.org/en/innovations/moovkids#f9709db2
My little garden
In a world where everyone is online, our innovation brings students back to nature. Connecting science, mathematics, chemistry, emotional intelligence, kindness and compassion is easy to understand why Leonardo Da Vinci said that "The wisest and noblest teacher is nature itself." To respect the needs of a seed is the first step to inspire students to respect humans, animals and the whole ecosystem. You can find more information here: https://hundred.org/en/innovations/my-little-garden-by-the-little-urban-farm#f9709db2
Career Village
Our Career village advising platform crowdsources the answers to every question from every student about every career. We're building a massive open-access reference source that every online learner can access anytime, anywhere. To date, we have served over 5,000,000 learners in 190 countries with high-quality career guidance from a volunteer pool of 90,000+ working professionals. You can find more information here: https://hundred.org/en/innovations/careervillage-org#f9709db2
If you, like me are interested in the important work that HundrED is driving then the best thing you can do is become an ambassador. Becoming an ambassador is easy, it's just a matter of filling out an online form here: https://hundred.org/en/ambassadors
Before the end of the year as Country Lead Ambassadors, we will be hosting a GLocal where we will share some of the innovations with you both from around the world and from right here in Australia. We are also hosting events during Helsinki Education Week and the Global Summit, both of which happen in November.
There is also an opportunity for students to become student ambassadors, this is open for students 16-19 years old and when accepted they engage in a year-long leadership development program with the youth ambassadors from around the world. You can find out about youth ambassadors here: https://hundred.org/en/youth-ambassadors
If you would like details on anything that is mentioned in this article then please reach out.
Kimberley Powell
Learning Leader: Innovation