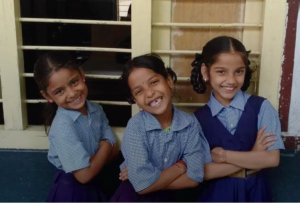 Millions of children across the world are coping with new psychological challenges and have faced emotional trauma due to the COVID-19 pandemic. Children have been isolated at home, not being able to play with their friends. Loneliness and depression are increasingly common as a result. As countries aim to build back bet­ter, children are growing up in an age marked by uncertainty, the climate crisis and rising inequality. Governments, educators, and parents need to prioritize social and emotional learning to prepare children to thrive in our increasingly complex world.
Social and emotional learning refers to how people develop the knowledge, skills, and attitudes to manage emotions, achieve goals, show empathy for others, build relationships, and make responsible decisions. Increasingly, employers prioritize these skills and pioneering governments are starting to emphasize these skills in national education strategies as we know these skills positively relate to academic performance. Social and emotional learning is good for the child, good for the work­force and good for society. Anne-Brigitte Albrechtsen, The Lego Foundation
As education providers around the world contemplate the changes we should make to education following the pandemic, there is much to consider. From digitizing education to making up for learning loss, or even restoring prior funding levels for education, challenges abound. One of the most important but sometimes less focal areas of education is Social and Emotional Learning. Even if all other areas fully recover, we cannot ignore the emotional and mental trauma that children experi­enced during lockdowns. When we forego in-person interaction for that long, we lose part of what it means to be human. However, this is hardly the only cause of stress for students, as we have seen concerning trends in mental health disorders in children for years. But now more than ever, we need to standardize the education practices fostering social and emotional learning in students to prepare them to flourish in life no matter what comes their way. If the innovations featured in this report continue to spread, we can accomplish that lofty goal. Danny Gilliand, HundrED
During 2021 HundrED has partnered with The Lego Foundation to research and prepare a spotlight on Social and Emotional Learning. In the spotlight report, they outline their research and feature 15 educational innovations from around the world that are committed to providing practical applications for increasing SEL in schools. Maslow before Blooms was the focus of many during the past 2 years of the Covid-19 Pandemic. In this engaging session, we will summarise the findings of the SEL Spotlight and engage with some of the people who were engaged in the research process, we will also connect with 2 of the top 15 SEL innovations about how they are focused on helping teachers make SEL an everyday priority in practical and meaningful ways.
Engage with the SEL Spotlight report here: https://cdn.hundred.org/uploads/report/file/138/HundrED_Spotlight_SEL.pdf?fbclid=IwAR3UxU7u269vBKMPt1tk43omY6HmC2l43L8Q1qaCIB1RNSqATUvk6M2PVL0
Join us on zoom at 10.00 am on Friday, 03 December:  https://us02web.zoom.us/j/88292696942
Danny Gilliland – Head of Growth, HundrED
Kimberley Powell
Learning Leader: Innovation