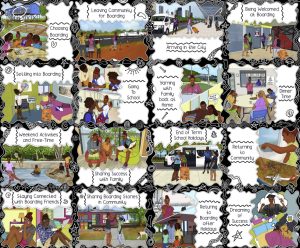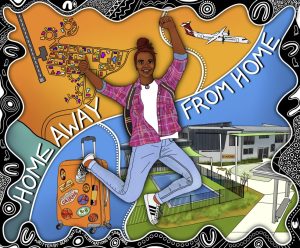 My name is Helen Carter and I take care of all the Careers and Transitions needs of around 50 young female boarders from the Cape, Torres Strait Islands and Northern Territory (Groote Eylandt) at AFL Cape York's House for girls located in Redlynch, Cairns.
Our inaugural Boarding Manger - Sean Hunter has this month released a sixteen page, fully illustrated children's book "Home Away from Home" which is a guided story of how young indigenous women transition from Community to Boarding. Sean has self-published this story, based on his first-hand Knowledge & Experience, as Boarding Manager of AFL Cape York House for Girls since its formation in 2019.
The book has been illustrated beautifully by indigenous artist, Jonas Dare. Jonas is a Barngarla woman from South Australia who has been inspired by her mother's leadership in the successful 25-year Barngarla land claim and creates art in all mediums to express her pride and connection to culture. Her spirit is that which we hope our young girls at AFL Cape York House for Girls can look up to and embrace as emerging leaders themselves.
An exciting part of the Book - is that ALL PROFITS will go back to AFL Cape York House, to further support our program/s.
"Home Away from Home" aims to give young female indigenous boarders (grades 6/7) the knowledge they need to be excited, reassured and confident about transitioning out of their communities into boarding.
Although it is written and illustrated from an AFL Cape York perspective the themes are most definitely interchangeable with other boarding and mentoring programs such as your own.
We'd love for you to purchase a copy for your site or for your library/ common rooms however we understand that this isn't always possible!
Alternatively, we'd love for you to check out the links below so we can broaden the understanding and reach of our program.
Please see the links for further information about Home Away from Home, AFL Cape York House for Girls and the AFL Cape York House Foundation
Home Away From Home: https://hafh.com.au/
AFL Cape York House for Girls: https://aflcy.com.au/index.php/girls/
AFL Cape York House Foundation: https://hafh.com.au/index.php/aflcyhf/
Helen Carter
Career and Transitions Co-Ordinator
AFL Cape York Girls House
2L Portelli Road, Redlynch QLD 4870
PO Box 143 Manunda QLD 4870
T: 0432 214 048