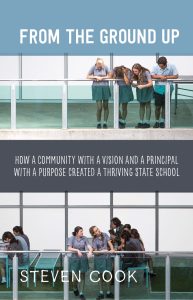 Last fortnight Andrew Bradtke (LESNW), Vanessa Noonan (LEQ) and myself visited a number of showcase Contemporary Schools across Melbourne to add to the next Melbourne Contemporary Learning Tour.
One of our highlights was working with visionary Steven Cook, Principal Albert Park College.
Steven has been for a long time creating disruptive models of education to enable our young to thrive and flourish in a Contemporary World.
As we strolled with Steven across 5 inner-city campuses of Albert Park State College, we were inspired and very much welcomed not only into the school but into the depths of his thinking which is about to be released in the book "From the Ground Up".
Derek Bartels
Learning Leader: Innovation