Therefore, as God's chosen people, holy and dearly loved, clothe yourselves with compassion, kindness, humility, gentleness and patience. Colossians 2:12
Have you ever had a trying day, and then out of the blue someone comes along and shows a little kindness toward you? I remember one such day when it seemed that everything that could go wrong, did go wrong - a day when I should have stayed in bed! Then quite out of the blue I was handed a beautiful red rose. The gift giver had made a special trip to my workplace and as she handed me the rose, she whispered, "I feel you needed this today" and with that, she left. I still don't know how she knew, but I do know that God knew.
Kindness toward our neighbour appears in many forms, not always presenting in the way we might imagine. For instance, kindness can take much courage especially when it appears in the form of speaking the truth. Jesus said if someone sins against us that we are to go to that person in private and speak with them, this is an act of kindness.
Standing up for somebody who is being mistreated or bullied is a great kindness, however speaking to the perpetrator out of concern for their behaviour is a kindness that goes that one step further.
The Bible is packed with verses that mention and demonstrate the kindness of God toward us. God's kindness always goes above and beyond anything we could comprehend. For instance, He allowed Jesus to take the punishment for our sin. He watched as His only precious Son carried the burden of our punishment, taking the place of us, the perpetrators!
It is said that how we treat others is often a reflection on how we feel about ourselves. The Gospel message changes the way we see ourselves in the light of Jesus love for us. Turning things around by taking our eyes off our feelings and turning our eyes toward God. Equipped with the Holy Spirit we can then only really love our neighbour as ourselves.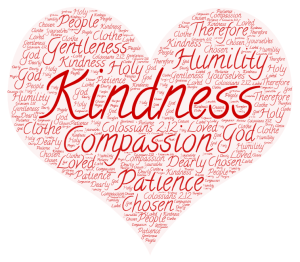 Dee Simons
Good Shepherd Lutheran College, Hamilton