Do not, therefore, abandon that confidence of yours; it brings a great reward (Hebrews 10:35).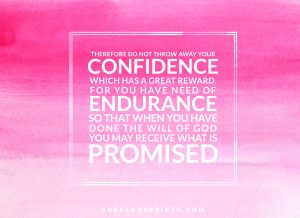 One of my favourite movies is The Sound of Music. I've always loved the scene where Maria leaves the confines of the abbey to begin her work as a governess to the Von Trapp family. She begins the journey tentatively, wondering what the future holds and feeling apprehensive and worried. A couple of minutes later, Maria is dancing down the streets singing about all of the things she has confidence in, finishing with 'I have confidence in me'. There is something stirring and inspirational about how Maria faces her fears, recounting what she knows about the world and herself.
What or who do you have confidence in? What happens when life experiences shake or damage this confidence? The writer to the Hebrews addresses these questions to the early church. The writer appeals to them to remember how they felt at the time of their conversion to the faith and that the light they experienced then also shone into the dark times that followed as they suffered for their faith.
When you are suffering or struggling, what is it that reminds you of God's love for you? What is it that reminds you of who you have confidence in? Perhaps it is recalling times past where God has answered your prayers. Maybe it is remembering a time where you felt God was absent, but on reflection, you realised he was there with you in your suffering. For some of us, the journey of faith consists of days where we are confident of God's goodness and presence in our lives, while on other days, well, we're not so sure – the mystery of faith and doubt living side-by-side as we make sense of our existence as God's beloved children.
So, what is this confidence that we hear about in this passage from Hebrews, and what is the reward? What we have confidence in is the reward! Our confidence is in the God who saves us through Christ. The God who is always with us in times of joy and in times of sorrow. When we feel less than confident about our ability to handle life's challenges, we can have confidence in the one who loves and saves us, no matter what life brings. Go, live in that confidence!
Loving God, give me faith in you, confidence in your saving promises and endurance for the journey ahead. Amen.
by Sue Westhorp