Isaiah 40
31 But those who trust in the Lord for help     will find their strength renewed.
They will rise on wings like eagles;     they will run and not get weary;     they will walk and not grow weak.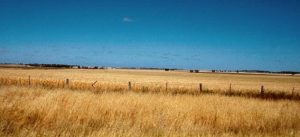 I don't remember much about the church celebration of advent when I was growing up in the mallee in the 1960s. What I do remember though was that this time of year was the ending of things and the beginning of things – school ended for the year, the actual year ended, the crops of wheat, barley and oats that had been growing since May were now finished and ready to be harvested. The days were hot, the evenings warm, the grass was already brown. We lived across the road from the silos and the railway station in Hopetoun and I'd sit out the front of our house and watch the farmer's park their trucks in the heat and the dust, waiting to unload the harvested grain into the silos. I loved to watch the steam locomotives huffing and puffing their way into town to pick up the harvested grain and leave again, straining under their load to deliver the golden grain to the ports of Geelong and Portland.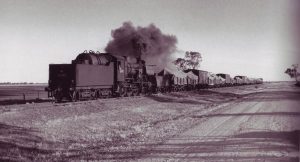 We looked forward eagerly and impatiently to the school holidays, to swimming in the pool, to the lazy crazy days of summer, but mostly of course, to the exciting, longed for highpoint of life and the whole year, Christmas Eve and Christmas day. Life actually slowed down in the mallee as it sweated further into summer and as Christmas finally arrived, distant family members would come home to share stories and more food than was needed. Church was always part of our ritual with its extra special focus on the birth of Jesus. On Christmas night, our extended family would gather together to eat some more, play games with our cousins, laugh and play. As Christmas faded into the heat haze, we nostalgically looked back on the year that was, and gently wandered into new year's eve and the new year to a chorus of auld lang syne around the piano. A year had finished and a new one has just begun.
Endings and beginnings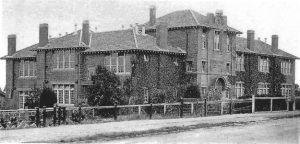 I began teaching at the very beginning of 1976 at a state school in the seaside suburb of Sandringham in Melbourne, and 10 years later moved to Lutheran Education at the beginning of 1986. Now, after almost 47 years (that's really hard to believe!) at the end of 2022 I conclude my career in education at Box Hill. It is ironic that my first teaching round in 1974 was at the now demolished, Box Hill PS which was situated to the south, right next door to the offices at LEVNT! During my career I've experienced quite a number of endings and beginnings and each one carried with it joys and sorrows, successes and failures – like most people, I guess. In this advent season, as 2022 draws to a close, it is sobering to reflect on what this year has brought and the troubles our world faces and will continue to face, in one form or another, into the future.
"Comfort, comfort all my people." was written by Robin Mann in 1975 and leads us to acknowledge the hurt and pain we've felt from the troubles in our world, and speaks of the glorious and eternal hope that only Jesus so generously can give to those of us who have been hurt by it, beaten by it, terrified of it, broken by it and perhaps even, in despair of it.
As Robin Mann, and Isaiah say:
Comfort, comfort all my people with the comfort of my word.
Speak it tender to my people: All your sins are taken away.
Though your tears be rivers running, though your tears be an ocean full, though you cry with the hurt of living, comfort, comfort.
Every valley SHALL be lifted, every mountain SHALL be low, every rough place WILL be smoother: comfort, comfort.
Though your eyes see only darkness, though your eyes can see no light, though your eyes see pain and sorrow: comfort, comfort.
Every night WILL have its morning,  every pain WILL have an end, every burden WILL be lightened: comfort, comfort.
This sums up for me what we do and strive to do in our Lutheran schools. Our world and our schools will always have their troubles and difficulties as we strive daily to bring comfort into the midst of confusion, pain and hurt.
What a privilege it has been to work with many of you in Lutheran Education over these last 37 years and to learn so much from you during my career in Geelong and of course, from my colleagues in the LEVNT office over the last 4 ½ years. It's been an honour to experience such a warm collegial workplace over many years, to stand in awe of the amazing skill and expertise I've seen in our schools, to witness the passion for Lutheran Education, to hear of the deep love our communities have for our Lord and Saviour, to feel the warmth and enthusiasm for sharing the Word of God and to be humbled by the delight we all take in ensuring that our schools work effectively to enrich the lives of our students.
I sincerely thank God for each of you, for the work you do, and pray that God will walk with you as you continue to serve him by selflessly serving each other, the students and the parents in your school community.
 We pray that the Lord Jesus Christ himself and God our Father will comfort you and strengthen you in every good thing you do and say.
God loved us and gave us through his grace a wonderful hope and comfort that has no end.
Amen     Philippians 4:7-9
Gary Jewson
Learning Leader: Formation