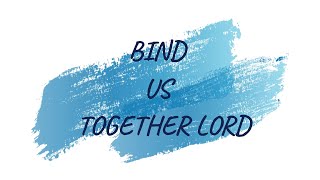 Bind us together, Lord, bind us together
With cords that cannot be broken.
Bind us together, Lord, bind us together, Lord,
Bind us together in love.

There is only one God, there is only one King,
There is only one Body, that is why we sing:

Though there are many branches, there is only one vine,
We are one in Christ Jesus, that is why we sing.
John Keys
This is song I have sung in church services and school chapels for quite a while now. The image that this song creates for me is that of the process involved in forming a piece of rope. As you know a rope is formed from multiple strands that are entwined together. Each strand, while relatively strong by itself has increased strength when it is entwined with other strands.
About two weeks ago I was reminded of this song again after I had the privilege of attending a student leadership day organised by the western district schools. While the song was not sung on the day, the concept of the day gave life to the lyrics.
The Leadership day was run for students from the Lutheran schools in Western part of Victoria. It was led by Emma Graetz from ALC, Australian Lutheran College, and it was held at Tandara Lutheran Campsite in Halls Gap. It was inspiring to see staff from the schools assisting the students to work through activities provided and led by Emma in a magnificent setting supported by caring camp staff. Three very distinctive ministries of the Church all coming together and using their specific skills to work together.
What occurred to me was how wonderful this example is of the strength of the Church when we work together to utilise the gifts of each agency. While each agency has a specific ministry and purpose there are times when these purposes can come together in an authentic way to share and show Christ's love.
There are many other examples of how our schools have developed these ministry partnerships. The wonderful work of Vicki Gallasch from Australian Lutheran World Service in working with teachers to develop units of work that assist students to understand the struggles of people around the world. I have attended some fantastic culmination events that have shown the understanding that students have developed through these programs. The Walk My Way Activity where congregations and schools come together to raise funds for people in poverty, while at the same time helping us all to develop a greater understanding of our call to serve others. I know of schools and congregations who have worked together to support families within the communities who are struggling with health or other issues.
I am sure that you could also look at what your school or ELC does and provide many other examples. I believe that as we continue to live and minister in a broken world, we need to actively seek ways that we can bind ourselves together to share our faith. As the lyric of the song goes, we are one in Christ Jesus.
Julian Denholm
Executive Director