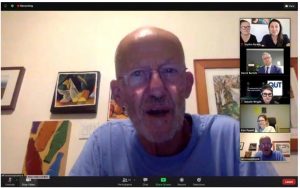 During the term break we arranged to connect alumni of the California Learning Tour with some of our California hosts. We chatted with Mitchell Salerno, Principal of Monte Vista Christian School who spoke about the importance of a shared vision and the challenge of Christianity and Politics and the American world view. We spoke with Ariel Raz, Lead Designer at d:School Stanford University who talked with us about Design Thinking and some of his current projects that have arisen out of the COVID-19 Pandemic and the opportunity that this year has given us to try and experiment in education and the challenge of finding a safe space for experimentation rather than just optimisation in education.
We also connected with Larry Rosenstock now Retired CEO of High-Tech High who shared stories of how he has seen education evolve over his career and the current challenges facing the 16 High Tech High Schools.
Larry was the 2019 recipient of the WISE Prize for Education and he shared with us the projects he is funding with the money from that prize. You can see Larry talk about his journey in education here:

This snapshot of Larry talking is an excellent example of why High-Tech is such a valuable place to be immersed in on the California tour.