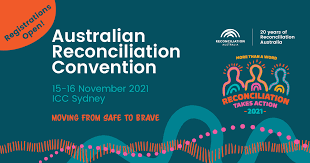 Next week the LEVNT RAP working group is virtually attending the Australian Reconciliation Convention. Together Shane Paterson, Mathew Blunt (ELC) and I will learn together. The theme of the conference is "Moving from Safe to Brave" and it is the first national reconciliation gathering in more than 20 years.
The Convention's innovative approach will include rigorous discussions and panel presentations, storytelling and performances with local, national and international perspectives to reflect on the past and to explore the future of a just, equitable, and reconciled Australia.
2021 marks twenty years of Reconciliation Australia and almost three decades of the Australian formal reconciliation process.
Full details of the convention can be found here: https://2021arc.com.au/
We look forward to bringing you resources from the convention that may prove useful for your important journey of developing your school's Reconciliation Action Plan and the even more important journey of implementing the actions set out in your plan over the coming months and years.
Kimberley Powell
Learning Leader: Innovation